Hi Guys!
3rd December
Today's post is going to be filled with cosy Christmas jumpers of all sorts of (relatively) affordable prices! I hope this inspires you to go out and buy your jumpers if you haven't already!  Christmas jumpers are one of my absolute essentials for December because they really help you get into the Christmas spirit.  If you aren't in the festive mood just yet, which I cannot understand because I've been feeling festive ever since August, hopefully this post and it's many Christmas jumpers will help you!
Asos/New Look Christmas Jumper – £14.99
Asos/Boohoo Penguin Bobble Hat Christmas Jumper – £18.00
Asos/Boohoo Deer And Snowflake Jumper – £15.00
Asos Christmas Jumper Dress – £35.00
Next Polar Bear Jumper – £28.00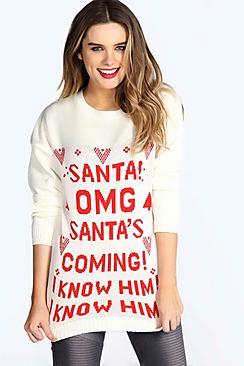 ---
I hope you enjoyed this post guys.  Have you bought your Christmas jumper(s) yet?  Tell me in the comments!  Hope you've enjoyed blogmas so far, and go check out all my previous Blogmas posts for the past few days under the tag 'BLOGMAS 2K16'!
Soph xx